A Breed Apart
is the thirtieth and final episode from Teacher's Pet before
the movie premiered
over a year an a half later.
Spot, concerned about what breed he is, drags Leonard to a dog show to find out. In the meantime, Mr. Jolly's father pays a visit and Jolly is not happy to see him after years of him, his mom, and the rest of his brothers and sisters being abandoned by him.
We learn more about Jolly's past and that Spot is a mixed breed of a dachshund and a retriever.
Ray Wise guest stars as Jolly's Father.
A Russian version of this episode exists online.
This was not intended to be the last episode. Gary Baseman originally had more in mind before the show was cancelled due to ABC Kids being developed.
Availability
Edit
An English, Russian, and Widescreen Tagalog Dub can be found online.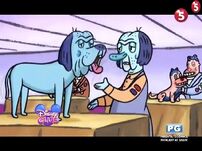 Ad blocker interference detected!
Wikia is a free-to-use site that makes money from advertising. We have a modified experience for viewers using ad blockers

Wikia is not accessible if you've made further modifications. Remove the custom ad blocker rule(s) and the page will load as expected.