Always Knock the Postman Twice is the second half of the ninth episode of Teacher's Pet from Season 1. Timothy Björklund served as director. Series co-creator Gary Baseman came up with the story for this episode, while Ford Riley wrote the teleplay.
Plot
When Scott makes slanderous insults against a mailman during career day at school he ends up getting in trouble for it. Leonard tries to change Spot's prejudice against mailmen by explaining to him all the mistakes that Spot and the other dogs see about mailmen before he gets himself into even more trouble at school. 
Cast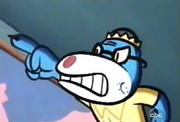 Trivia
Mr. Naven's full name is shown on his mailbox: C. K. Dexter Naven.
Ad blocker interference detected!
Wikia is a free-to-use site that makes money from advertising. We have a modified experience for viewers using ad blockers

Wikia is not accessible if you've made further modifications. Remove the custom ad blocker rule(s) and the page will load as expected.