Attack of the Fifty Inch Girl is the twenty-first episode from Season 2 and is the thirty-fourth episode of Teacher's Pet overall. It was directed by Ennio Torresan, Jr. and written by Bill and Cheri Steinkellner, their last writing credits prior to the movie.
Plot
A new girl named
Fred Bitters
comes to Fala D. Roosevelt Elementary School and bullies Scott so much that he decides to quit school, much to Leonard's surprise. However, in Scott's absence, she turns her attention to Leonard, who contemplates quitting school too. So he and Scott decide to confront her, when she admits that she feels out of place since she's always going from school to school, due to her father's job requiring the family to move frequently.
Cast
| Voice actor | Role(s) |
| --- | --- |
| Nathan Lane | Spot Helperman/Scott Leadready II |
| Shaun Fleming | Leonard Helperman |
| Debra Jo Rupp | Mary Lou Helperman |
| Jerry Stiller | Pretty Boy |
| David Ogden Stiers | Mr. Jolly, Custodian |
| Nancy Cartwright | Fred Bitters, Woman on TV |
| Rob Paulsen | Ian Wazselewski, Buddy, Fourth grader, additional voices |
| Pamela Segall Adlon | Tyler, Taylor and Trevor, Teddy Naven, additional voices |
| Cree Summer | Chelsey and Kelsey, Emma |
| Lauren Tom | Younghee Mandel-Baum |
| Mae Whitman | Leslie Dunkling, additional voices |
Notes
Moral: If you want to make a good friend, you have to be a good friend. 
Availability
An English VHSrip/Widescreen version, Russian, and widescreen Tagalog Dub exists online.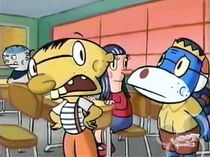 Ad blocker interference detected!
Wikia is a free-to-use site that makes money from advertising. We have a modified experience for viewers using ad blockers

Wikia is not accessible if you've made further modifications. Remove the custom ad blocker rule(s) and the page will load as expected.