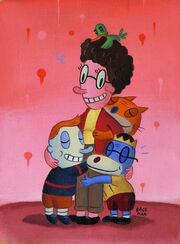 Bill Steinkellner and Cheri Steinkellner (maiden name Eichen)[1] are a husband and wife writing team, known for working on The Jeffersons, Benson, The Facts of Life, Who's the Boss and Hope and Gloria, among others. The two had met each other at the Groundlings, and married in 1982.[1] Cheri, then an actress, started helping her writer husband on his scripts, and soon enough, the two became a writing team.[1] They came to prominence working on the show Cheers, and helped create Teacher's Pet alongside Gary Baseman.[1]
Teacher's Pet episodes written
Trivia
They have three children: Kit, Teddy and Emma. Teddy Naven and Emma Whitemill, characters in the Teacher's Pet series, are named after them.[2]
References
↑ 1.0 1.1 1.2 1.3 http://www.sdjewishworld.com/2012/04/02/meet-cheri-steinkellner-her-life-is-written-in-plays/
Ad blocker interference detected!
Wikia is a free-to-use site that makes money from advertising. We have a modified experience for viewers using ad blockers

Wikia is not accessible if you've made further modifications. Remove the custom ad blocker rule(s) and the page will load as expected.