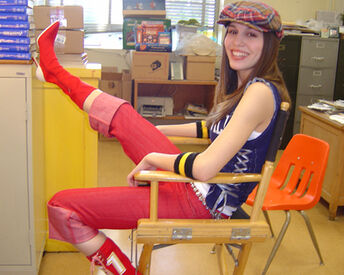 Christy Carlson Romano (born March 20, 1984) is an American actress and singer who rose to fame for her starring role as Ren Stevens in the Disney Channel Original series, Even Stevens, Jennifer Stone in Cadet Kelly, and for her voice work as Kim Possible in the Disney Channel animated series, Kim Possible. She also voiced Yuffie in Kingdom Hearts and she recorded a song for Teacher's Pet: The Movie.
Music
Romano also has a singing career. She's recorded numerous songs for Walt Disney Records, including a Pop/R&B rendition of "Circle of Life" with the Disney Channel Circle of Stars for the special edition release of The Lion King, and released a compilation album entitled Greatest TV & Film Hits, which included a rendition of "Colors of the Wind" from Disney's Pocahontas, a song based on the Disney Channel Original animated series entitled "Teacher's Pet", and Romano's debut single, "Dive In".
Ad blocker interference detected!
Wikia is a free-to-use site that makes money from advertising. We have a modified experience for viewers using ad blockers

Wikia is not accessible if you've made further modifications. Remove the custom ad blocker rule(s) and the page will load as expected.