Costume Pity Party is the eighth episode of Teacher's Pet from Season 1. 
On Halloween day, Leonard explains that he doesn't wear costumes anymore for the reason that he was bullied the previous year. Spot still wants to dress up, and he does. On the way to school, Scott's costume unravels and he walks up to the school wearing only his glasses. The kids think he's wearing a great dog costume. Trouble arises, however, when everyone is asked to take their costumes off.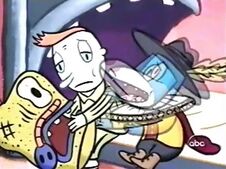 Ad blocker interference detected!
Wikia is a free-to-use site that makes money from advertising. We have a modified experience for viewers using ad blockers

Wikia is not accessible if you've made further modifications. Remove the custom ad blocker rule(s) and the page will load as expected.