Dont Count Your Chickies Before They Hatch
is the fifth episode from Season 2 and is the twenty second episode of Teacher's Pet overall.
Scott is thrilled at a chance to go the upcoming air show, but this conflicts with his class assignment to watch over chicken eggs, so in the meantime, Leonard videotapes the whole thing for Scott so he can still watch the airshow later on. Eventually Scott has to leave the house to retrieve a light bulb when the chickens incubators light bulb dies, but on the way to the light bulb store, Scott is extremely tempted to go to the airshow.
In the meantime, after complaining that he feels that he has no purpose in life, Mr. Jolly finds purpose by lying on top of the eggs to keep them warm.
Moral: Don't neglect your responsibilities.
Availability
Edit
An English VHSrip/Widescreen version, and Tagalog Dub exists online.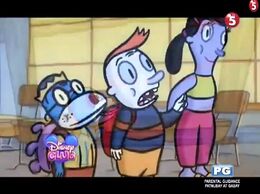 </p>
Ad blocker interference detected!
Wikia is a free-to-use site that makes money from advertising. We have a modified experience for viewers using ad blockers

Wikia is not accessible if you've made further modifications. Remove the custom ad blocker rule(s) and the page will load as expected.