Inspector Leadready II
is the twenty first episode from Season 2 and is the thirty eighth episode of Teacher's Pet overall.
When Leonard is wrongly accused of breaking Leslie's map of Brazil, Scott decides to set things straight.
The kids (except Leonard) were actually mean to Leslie in this episode. This is a reason why many fans hate this episode.
Strickler says that Leonard won't have recess in college. In real life, recess isn't available in middle school and high school, which is probably the joke.
Leonard and Leslie hold hands in this episode. A hint that Leslie is starting to realize her true love for him.
 Availability
Edit
An English VHSrip/Widescreen version, and Tagalog Dub exists online.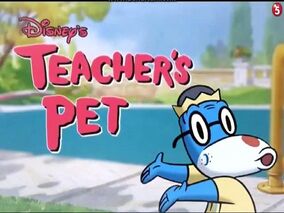 Ad blocker interference detected!
Wikia is a free-to-use site that makes money from advertising. We have a modified experience for viewers using ad blockers

Wikia is not accessible if you've made further modifications. Remove the custom ad blocker rule(s) and the page will load as expected.