Mr. Jolly: Man or Mouser is the eleventh episode from Season 2 and is the twenty eighth episode of Teacher's Pet overall. 
Mary is baking homemade cookies when she shrieks at the sight of a mouse. While attempting to call an exterminator, Leonard bets that Mr. Jolly can catch the mouse within five minutes before she gets off "hold" on phone, or she'll get his share of the cookies.
Availability/Opening Title Cards
Edit
An English VHSrip/Widescreen version, and Tagalog Dub exists online.

10:19

Disney's Teacher's Pet - S02E10A - Mr Jolly - Man Or Mouser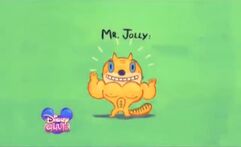 Ad blocker interference detected!
Wikia is a free-to-use site that makes money from advertising. We have a modified experience for viewers using ad blockers

Wikia is not accessible if you've made further modifications. Remove the custom ad blocker rule(s) and the page will load as expected.