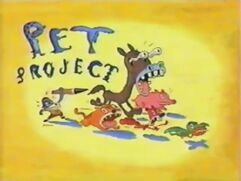 Pet Project is the second episode of Teacher's Pet from Season 1. It was directed Timothy Björklund and written by Bill and Cheri Steinkellner.
Plot
Spot tries to pass off Mr. Jolly as his pet cat and Leonard writes about Pretty Boy when the kids have to write and recite an essay on their pets in class. Leonard and Spot get competitive when they learn whoever has the best story will be published in a pet magazine.
Cast
Credits
The credits for this episode can be found here.
Trivia
Moral: Don't let competition get the better of you.
This episode takes place a week after the first episode's plot. 
The other dogs seem to have a slight dislike towards Spot since he masquerades as a boy, which is also shown in other episodes.
Ad blocker interference detected!
Wikia is a free-to-use site that makes money from advertising. We have a modified experience for viewers using ad blockers

Wikia is not accessible if you've made further modifications. Remove the custom ad blocker rule(s) and the page will load as expected.