Rule of Paw
is the seventeenth episode of Teacher's Pet and the second part of the Season Finale.
When Scott takes his new role as playground safety monitor a bit too seriously, Leonard intentionally breaks a bunch of small offenses to make a point that his new rules are ridiculous. Scott doesn't like this one bit and it lands Leonard in Student Council Court.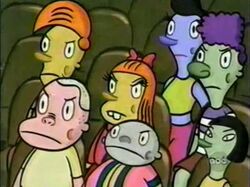 Ad blocker interference detected!
Wikia is a free-to-use site that makes money from advertising. We have a modified experience for viewers using ad blockers

Wikia is not accessible if you've made further modifications. Remove the custom ad blocker rule(s) and the page will load as expected.