Ruth is a secondary character in Teacher's Pet. She is Ian's crush and he constantly chases her until she becomes "Mrs. Ian Wazselewski" and she runs away in disgust ("A Lick is Still A Kiss"). Primarily seen in the background, she occasionally speaks in some episodes. In the episode, "A Dog for all Seasons", it is revealed she is Jewish, as she celebrates Hanukkah. She is voiced by several actresses throughout the series, including Lauren Tom (in most episodes), Pam Segall ("A Dog for All Seasons") and Kath Soucie ("Bad Fur Day").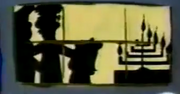 Ad blocker interference detected!
Wikia is a free-to-use site that makes money from advertising. We have a modified experience for viewers using ad blockers

Wikia is not accessible if you've made further modifications. Remove the custom ad blocker rule(s) and the page will load as expected.