Saving Mr. Jolly is the first half of the thirteenth episode of Teacher's Pet, during the first season. It was directed by Timothy Björklund and written by Cade Chilcoat.
Plot
Pretty Boy and Mr. Jolly both think the other is missing so they go to school in search of Leonard's help; things get worse when they do find each other and, also find Tallulah, who wants to eat Pretty Boy. In the meantime, Leonard, Scott, and the rest of the class participate in the "Vipatoty" fitness test.
Cast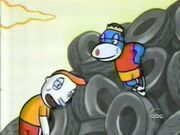 Notes
Moral: Believe in yourself.
This is the second and last episode where Tallulah talks.
Mary Lou's license plate reads "HLPRMAN".
Ad blocker interference detected!
Wikia is a free-to-use site that makes money from advertising. We have a modified experience for viewers using ad blockers

Wikia is not accessible if you've made further modifications. Remove the custom ad blocker rule(s) and the page will load as expected.