Science Not Fair is the fourteenth episode from Season 2 and is the twenty-seventh episode of Teacher's Pet overall. It was directed by Don MacKinnon and written by Billiam Coronel.
Plot
Scott is working on a magnificent science fair project on photosynthesis, the same topic every other student is working on. Leonard is working on a project on how dogs hear differently than humans. Leonard's mom walks in on Scott (as Spot) working on his project, and she assumes that it's really Leonard's project, and makes him enter it into the science fair. The only problem is that now everyone has done the same project.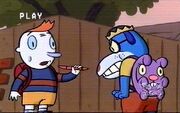 Cast
Notes
Moral: Don't take credit for someone else's work.
Rob Paulsen is not credited in this episode, for unknown reasons.
 Availability
An English VHSrip/
Widescreen version
, and Tagalog Dub exists online.
Ad blocker interference detected!
Wikia is a free-to-use site that makes money from advertising. We have a modified experience for viewers using ad blockers

Wikia is not accessible if you've made further modifications. Remove the custom ad blocker rule(s) and the page will load as expected.