Strickler's Pet is the sixth episode from Season 2 and is the twenty third episode of Teacher's Pet overall.
Principal Strickler wants his school to be the top reading school in America, but he has no more rewards for them once they get up to 2000, so he foolishly volunteers to shave his hair, and then paint it purple. Strickler believes that no one will read up to that much, but Scott says that if he has to, he'll do it all by himself. This scares Strickler, who makes Scott his office assistant, so he won't have time to read.
Moral: Don't make promises you can't keep, because what goes around comes around.
This episode along with Fresh 'n' Frozey Chocolaccino was the first new episode that premiered on Toon Disney.
It's revealed that there are 314 students in the school.
At the assembly, you will notice that the background characters repeat. Repeating background characters in crowd scenes is very common in animation.
Availability
Edit
An English VHSrip/
Widescreen version
, and Tagalog Dub exists online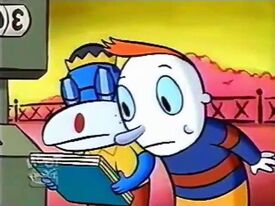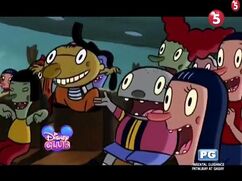 Ad blocker interference detected!
Wikia is a free-to-use site that makes money from advertising. We have a modified experience for viewers using ad blockers

Wikia is not accessible if you've made further modifications. Remove the custom ad blocker rule(s) and the page will load as expected.