Take Me Out of the Ball Game


Information
Season
2
Number
20
Production Code
{{{productioncode}}}
U.S. Air Date
March 8, 2002
Timeline
Previous
Team Scott
Next
Inspector Leadready II
Take Me Out of the Ball Game
 is the twentieth episode from Season 2 and is the thirty seventh episode of Teacher's Pet overall.
When Scott is prohibited from playing baseball due to only been a student for eight months, he decides to be a coach and help Leonard to become a great player for the team to the point of embarrassing him.
Availability
Edit
An English and a widescreen Tagalog dub version exists online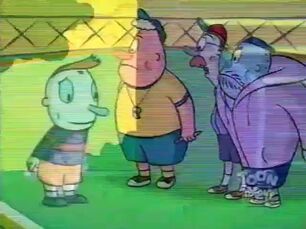 .
Ad blocker interference detected!
Wikia is a free-to-use site that makes money from advertising. We have a modified experience for viewers using ad blockers

Wikia is not accessible if you've made further modifications. Remove the custom ad blocker rule(s) and the page will load as expected.