Teac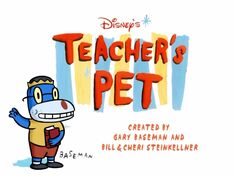 her's Pet
(also known as
Disney's Teacher's Pet, in Swedan: A Pooch in Class, in France: Scott and Leonard!, In German: Class Dog,
) is an American Disney animated television series about
a nerdy 11 year old boy and his dog who thinks he's a boy. Created by Gary Baseman, Bill Steinkellner and Cheri Steinkellner and directed by Timothy Björklund, the first season was broadcast on Disney's One Saturday Morning on ABC, and the second season was broadcast partially on ABC and then moved to Toon Disney after the first eight episodes. A feature film version was released in 2004 (with most of the cast from the show reprising their roles). The show ran from 2000 to 2002. The show was influenced by Gary Baseman's dog, Hubcaps. He would wonder what the dog would do while he was gone. He made this show in honor of him, with Spot portraying Hubcaps. The show ran for 2 seasons with a total of 39 episodes.
Teacher's Pet follows the adventures of dorky nine year old Leonard Helperman and his dog, Spot Helperman. On Leonard's first day as a fourth-grader, Spot can't resist the urge to dress up like a kid and go to school, since he, and every other animal in this world, can talk and walk on their hind legs. Leonard is relunctant about letting him stay at school (mostly because he's showing Leonard up), but he allows him to do so when he realizes that it's his dream. Spot decides to go by Scott Leadready, II because when he told Mary (Leonard's mom and teacher) his name, she mistook him and thought it was Scott. Then, he saw a pencil that said "Leadready No. 2". Scott decides to use this for his last name, and Ms. Helperman believes that he means "Leadready II", so that becomes his name.
A KaBlam! short, Stewy the Dog Boy was planned to become a spin-off (Which was about a dog wanting to go to school, so he disguises himself as a human), but when Nickelodeon found out about the show, the spin-off was cancelled. Funny enough, Gary Baseman, the creator, did a short for KaBlam!, The Louie and Louie Show during it's first season. Later, Baseman made a show called "Teacher's Pet" which was inspired by his own dog, Hubcaps. The man would wonder what the dog would do while he was gone.
Gary Baseman had the original idea for a dog who dresses up like a boy and goes to school because Gary sort of resides in this alternate universe where things like that could happen. And I think he imagines that his dog, when he would go to work, would put on his clothes and go to school. We pitched the original idea to Disney and had a whole bunch of ideas we were looking to develop. Then the co-creators brought them home to their little tech-marketing group, which are their three little children. The creators began working on the TV series. They set (the story) in the fourth grade because they knew what a time in one's life of total embarrassment and total mortification it was. So nothing could be worse for a kid who doesn't want to stand out and be noticed than to have his dog show up in his clothes and be around his new classmates and how the students were too ignorant to know he's a dog.
As soon as the pilot was done. They all thought that when the TV show really took off, wouldn't it be great to have a film ready to hit the theaters right as the show was peaking? So, they endorsed it to begin a bigger story, a story with more scope than the regular school stories that we did on television. We began developing the story and the show went on the air, but while it was really well received critically, it never found an audience. It didn't really find an audience, but by that time it was too late because we had already written the movie. They were able to continue making the feature step-by-step. People really liked it at Disney and wanted something separate from the series. That's how this little thing that probably should have never actually been born made it through the whole gestational period.
The show premiered on ABC as part of Disney's One Saturday Morning. When OSM was cancelled and changed to ABC Kids,  the show along with The Weekenders and Teamo Supermo became Toon Disney shows and the rest fo the show's episodes aired as prime-time sitcoms.
Main Cast
Edit
Recurring Cast
Edit
Guest Stars
Edit
In 2004, a movie was made as the series finale and it is currently the last movie based on a show from One Saturday Morning. When a mad scientist that can turn animals into humans appears on TV, Spot sees this as a chance to become a boy. Spot is off to see the mad scientist with Leonard joining him. Spot becomes a man, but he realizes that being human isn't what he thought after all.
Fanfiction
Edit
Ad blocker interference detected!
Wikia is a free-to-use site that makes money from advertising. We have a modified experience for viewers using ad blockers

Wikia is not accessible if you've made further modifications. Remove the custom ad blocker rule(s) and the page will load as expected.