Team Scott is the first half of the seventeenth episode from Season 2 and is part of the thirtieth episode of Teacher's Pet overall. It was directed by Donald V. MacKinnon and written by Billiam Coronel.
Plot
The East Westland JBR Troops let Scott compete and win in all the JBR Confab events all by himself so they don't lose for the 10th year in a row. But things go downhill when the troop ends up going the wrong way on the final test to Little Rock Mountain.
Cast
Availability
An English and a widescreen Tagalog Dub version exists online, but the latter is missing the last 30 seconds.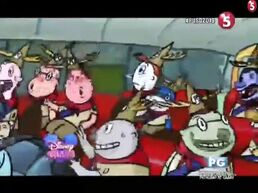 Ad blocker interference detected!
Wikia is a free-to-use site that makes money from advertising. We have a modified experience for viewers using ad blockers

Wikia is not accessible if you've made further modifications. Remove the custom ad blocker rule(s) and the page will load as expected.