The Flipper is the twenty-second episode from Season 2 and is the thirty-fifth episode of Teacher's Pet overall. It was directed by Ennio Torresan, Jr. and written by Billiam Coronel.
Plot
At school, kids are "flipping" cards: that is, throwing baseball cards into a circle, and whoever gets the closest to the circle gets the other player's cards. Scott is fantastic at it, while Leonard is terrible. Scott teaches Leonard how to play, and Leonard becomes better than Scott, and wins everyone's cards. So, Scott wants to get his mojo back and beat Leonard, who has become selfish, as he does not want to relinquish the others' cards. In the meantime, Mr. Jolly makes buildings out of playing cards as Pretty Boy does various methods to blow it down.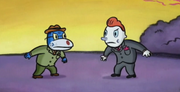 Cast
Notes
Moral: If you want to be good at something, you have to keep at it and if you want respect, you have to treat others with it and be a good sport, not make them feel inferior.
We learn Principal Strickler's first name, Crosby, is in honor of musician Bing Crosby.
Availability
An English and Tagalog widescreen Dub exists online.
Ad blocker interference detected!
Wikia is a free-to-use site that makes money from advertising. We have a modified experience for viewers using ad blockers

Wikia is not accessible if you've made further modifications. Remove the custom ad blocker rule(s) and the page will load as expected.