You Can't Bite City Hall is the tenth episode of Teacher's Pet from Season 1. It was directed by Timothy Björklund and written by Bill and Cheri Steinkellner.
Plot
The city wants to turn the dog park into a skateboard park and Scott supports this until his dog friends inform him of their perspective of the park, leaving Spot conflicted on which side he should be on. 
Cast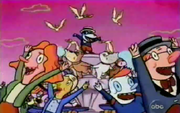 Notes
Moral: Compromise and think of ways to benefit everyone.
Kath Soucie voices Joan of Ark during Spot's dream, though for unknown reasons she is not credited.
Ad blocker interference detected!
Wikia is a free-to-use site that makes money from advertising. We have a modified experience for viewers using ad blockers

Wikia is not accessible if you've made further modifications. Remove the custom ad blocker rule(s) and the page will load as expected.