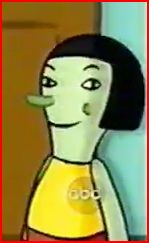 Younghee Mandel-Baum[1] is a Korean-American student in Leonard's class and is Leslie's best friend. Like all the other kids, she was always insulting Leonard and making fun of him. However, it's later revealed she does this as she has a crush on him and doesn't know how to tell him ("Taint Valentine's Day"). Younghee's parents are owners of a Korean restaurant ("Fifi").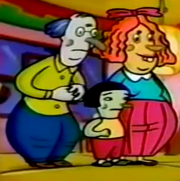 Appearance
Younghee is a 10 year old little girl with green skin and black hair. She wears a yellow tank top, red shorts, and black Mary Janes.
Trivia
Younghee is similar to Helga from the Hey Arnold franchise. They both bully the main character but actually have crushes on them.
Gallery
For more pictures of Younghee click here
References
Ad blocker interference detected!
Wikia is a free-to-use site that makes money from advertising. We have a modified experience for viewers using ad blockers

Wikia is not accessible if you've made further modifications. Remove the custom ad blocker rule(s) and the page will load as expected.